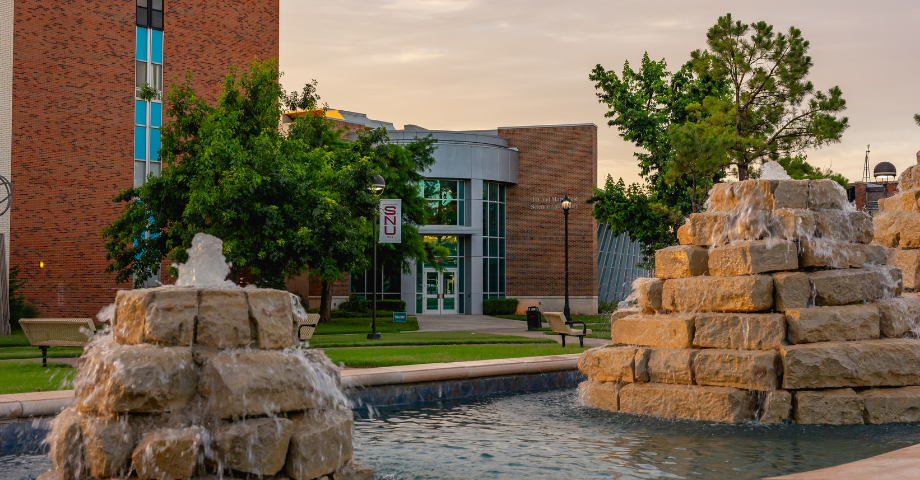 Southern Nazarene University offers flexible degree programs with busy adults in mind. With courses taking place one night a week or entirely online, we make it easy for students to earn their degree all while working full-time, raising a family and engaging in their communities. Our programs follow a cohort model approach in which you progress through classes with the same group of students. This unique experience promotes a sense of belonging and support within your program.
But we don't stop there. Our student services partners exist to support our students holistically throughout their entire educational journey. Let's be honest—completing a degree as an adult is challenging. But with a university that's dedicated to simplifying the process and providing quality resources, you have what it takes.
Student Service Partners
The Office of Disability Services provides and coordinates support services that enable students with disabilities to receive equal access to all aspects of university life. The Disability Services Director provides accommodations to qualifying students, educates students on policies, laws, and regulations associated with disability services, serves as an advocate for students in their interactions with faculty and staff, and works to create a culture of inclusiveness for all types of learners at SNU. Disability Services provides services for traditional undergraduate students, professional studies students, and graduate students at SNU.
International Student Services
SNU is here to serve and help our international students. Whether you attend online or in-person, we're committed to guiding through the process—from admissions to graduation. For further admissions steps and questions please call or email.
Free Learner Workshops & Tutoring
SNU offers a variety of academic resources to help our students succeed in their courses. We encourage all our students to take full advantage of the workshops and tutoring available—ensuring you are prepared for every class.
Current students can sign-up for the following resources below:
The IT Support Center office hours are 8 a.m. to 8 p.m., Monday through Thursday and 8 a.m. to 5 p.m. on Friday. Our team is ready and eager to help with:
Software and class applications
Email and network problems
Lab computers and printers
Maintenance and work orders for campus equipment
Approving, ordering and installing all computer equipment
Network connections for all offices and on-campus housing
Student laptop equipment support is available at the Laptop Center
PGS Chaplain: Dr. Doug Samples
SNU's chaplain is there to offer spiritual support and guidance throughout your educational journey. Your spiritual life is interconnected as you seek to steward your career and your intellectual growth. Whether you're celebrating a wedding or birth, going through a divorce, or coping with grief, our chaplain is available to students for prayer and guidance, free of charge.
Since 2015, SNU's award-winning VETS Center has proudly supported our nation's service members and veterans as they work towards their educational and career goals. SNU accepts ACE credit for military training and experience, and all of SNU's adult education programs are eligible to use with VA Educational Benefits. Our full-time staff at the VETS Center are here to help make the transition into education as seamless as possible.
Our financial aid office takes the guesswork out of applying for financial aid and will ensure you take full advantage of all the support that is available to you. We will meet with you either in-person or over the phone to help you:
Estimate total costs, including hidden expenses like childcare
Figure out which documents you need to apply for aid and help you get them all in one place
Fill out your FAFSA and guide you through the process
Our library offers a wide variety of reference materials, both in-person and online. You will also have access to online research databases, housing thousands of peer-reviewed articles you can use on research and class assignments. For in-person students, our spaces offer a range of study zones to support individual and collaborative learning.
View the books needed for your courses and order to get delivered to your doorstep! If you order from Slingshot, this is also where you will go to retrieve your return mailing label for sending your books back. Or you can do research and order the books you need from your preferred store.
Renew Counseling Center is here to provide help and hope. We offer the opportunity for people like you to pursue wholeness, healing, support, and growth within a Christian context, while remaining respectful of your background and experiences. As we work with you, we will listen to your concerns, assess your needs, and respect your values.
Student Success Advisors
Our Academic Advisors will work with you to select the best educational plan for your career goals. They are dedicated to helping you every step of the way!
Program Directors & Instructors
At SNU you have a built-in support system—including expert instructors and program directors. All instructors have vast amounts of industry experience and will guide you through each course.
Earn a degree you have time for
Whether you want to take classes online or in-person at one of our two campuses, SNU offers flexible options to fit your schedule. Plus, with so many ways to stay virtually connected to your cohort and professors, you don't have to sacrifice community for convenience.
SNU's adult programs also follow an accelerated format, meaning you can earn your degree faster from start to finish. Gone are the days of being in school for years on end no matter the program. Designed with you in mind, we've fast-tracked our programs to deliver a high quality education at a pace that's quick but manageable. And with multiple start dates throughout the year, you can enroll whenever it's most convenient for you. Don't wait for the next fall season to roll around.
Fitting a degree program in your life has never been easier. There will always be reasons to keep putting it off. But with built-in support from SNU and a determined focus to reach your goals, you have what it takes.