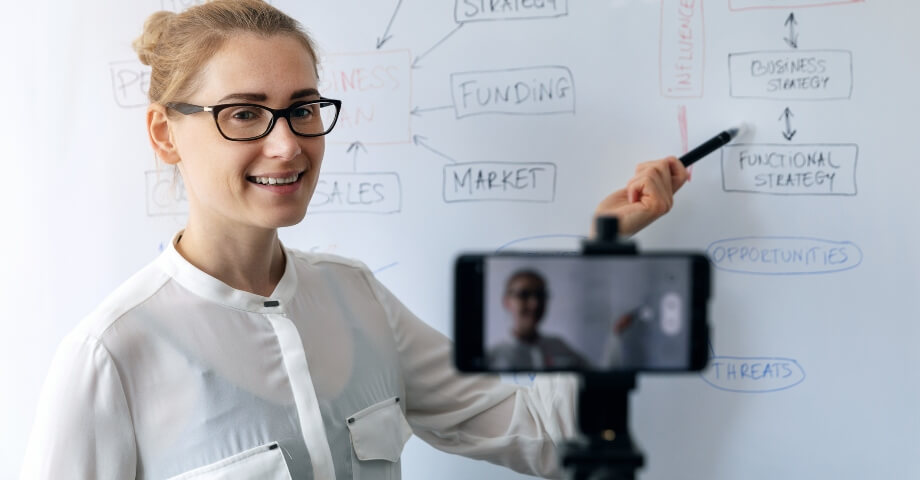 A few short years ago, schools that offered remote learning were still revolutionaries dragging the industry into the 21st century. However, what once seemed impossible is now the norm at schools across the globe!
This shift has shown how important instructional designers can be in shaping the future of education and ensuring schools have the agility to adapt to changing circumstances rapidly. An instructional design degree is a great investment in your future and the future of the many students and teachers you serve.
What Is Instructional Design?
Broadly speaking, instructional design is using technology to help meet institutional goals. There is a strong focus on education, but many companies also hire instructional designers to foster better communication between employees, make remote work possible, and bridge the gap between corporate goals and technological challenges. Governments, military contractors, and other entities may also use instructional designers to support educational goals, such as by using a technological platform to educate a city council about its legal and ethical duties.
At its core, instructional design is about intelligent project management that helps people learn better and work smarter. You don't design the technology or even necessarily choose it. Instead, you identify the client's goals, strategies for implementing them, and benchmarks for success. Then you oversee the team that designs or tweaks new technology and deliver the final product to the client.
The History of Education and Instructional Design
For many readers, technology in school was once limited to playing "Oregon Trail" to learn about westward expansion or taking touch-typing classes and hoping a typewriter didn't jam. Over the last 20 years, better technology and widespread high-speed Internet access have brought instructional design front and center. Educators now have a wide range of options for using technology to improve learning outcomes — and instructional designers can play a key role in student success and mitigating achievement gaps.
Even though the formalized study of instructional design is relatively new, instructional design has always existed — whether it was teachers trying to discern which worksheets were most effective or principals instituting play-based learning to get students out of their seats. Now, though, instructional designers can draw on a bevy of exciting trends to truly change the future of education.
Some instructional design trends we're loving include:
Personalized learning: Every learner is unique. Quizzes, games, and tests that adapt to a user's skill level and knowledge base are here and can help every student get exactly the level of support they need.
Video learning: Students already spend so much time in front of YouTube and other video streaming platforms. Capitalize on this tendency with high-quality videos that are fun and educational.
Virtual and augmented reality: Field trips are no longer limited to the surrounding neighborhood. Instead, virtual and augmented reality platforms can show students the world, the galaxy, and even realms that don't exist.
Gamification: Play is fun, which is why it's such a great tool for getting kids invested in curricula. If you can turn it into a game on the computer or tablet, you can get even bored learners invested.
Reasons to Consider an Instructional Design Degree
When you pursue an instructional design degree, you invest in the future of education. If you've ever sat in a classroom and wondered why a teacher is doing things a certain way or lamented the refusal of educational institutions to embrace true inclusion and diversity, this degree gives you a chance to be a part of the solution. You'll design and test new ideas, and you'll get to work with a wide range of education and technology experts.
The following are just some of the benefits of choosing this program.
Bringing Your Unique Perspective and Experience to the Job
Instructional designers are innovators and experimenters. Draw on your own educational experience to make school or work better for others.
Helping Others
If you're constantly worried about which students are being left behind, an instructional design degree allows you to identify these students, build support structures, and help them succeed.
Improving Family Life
Educational institutions strongly affect students' lives, including their family life. Consider how nightly homework battles can turn family time into a disaster or how the stress of advocating for a child with disabilities may exhaust even the best caregivers. By building exceptional technology, you can improve families' lives. The right workplace technology can also help workers cultivate greater work-life balance.
Shifting the Landscape of Education
AI and adaptive smart technologies have become increasingly important in learning design—their natural language processing and machine learning capability are tools that will shape the future of education! Educators and Institutions are grappling with incorporating these tools ethically and responsibly. These systems may hold the keys to promoting independent learning through quick, personalized assistance and individual analysis of student performance.
Becoming Part of Diverse Efforts to Include More Students
Technological solutions are critical for the success of nontraditional learners. Consider how blind students may use screen readers to access classes, for example. A thoughtful approach can make school less overwhelming and more inclusive to everyone.
Earning Great Pay While Making a Difference in the World
Instructional coordinator jobs grew faster than average in 2021, with median annual earnings of $63,740. While the pandemic may have made the case for these roles' value, AI and other learning technologies have progressed to the point where educational technology and learning design can no longer be ignored.
Enjoying a Challenging, Enjoyable Work Environment
Instructional designers look to the future. You'll be doing something new daily, so you're unlikely to be bored at work. You might start the week off helping a struggling learner access remote learning, then end the week meeting with a team to identify technology to best comply with a student's individualized educational program (IEP) — all while consulting with experts and digging deeply into the science and art of education.
Instructional Design Degree Basics
So, what can you expect from an instructional design degree? That varies a bit from school to school, and it depends on whether you attend graduate or undergraduate school, but there's always a strong focus on project management.
An overview of the classes you'll take includes:
Principles of instructional design
Principles of human performance technology
Legal and ethical considerations
New and emerging technologies, like Articulate Storyline and Adobe Captivate
Trends and innovation in instructional design
Project management and leadership
Learning design evaluation and assessment
Instructional tech - like adaptive smart assessment tools
Design concepts and application, UI vs UX
Advanced instructional design and performance technology, like AI and chatbots
You'll also complete an instructional design capstone project, which gives you a chance to put the skills you've learned to the test in the real world.
Career Opportunities With an Instructional Design Degree
The skills you learn during your instruction design program can be applied to several different aspects of education, including:
Consulting/Small Business Ownership
Love the idea of independence? Then, consider going into business for yourself. You can specialize in certain educational institutions or goals or build a stable of clients from all sectors.
K-12 Education
Technology is an integral component of K-12 education, especially for students with special needs and remote learners. Help build new solutions that shape effective and successful learning.
Higher Education
Institutions of higher learning are rapidly evolving to adjust to changing times. This means more digital and remote learning, curricula designed to meet the myriad needs of unique learners, and a focus on innovation and adaptability.
Military Contractors
Our armed forces have embraced instructional design, learning design, and educational technologies as they train military personnel in various fields - from using AI to developing job training for veterans.
How to Choose the Right Instructional Design Degree Program
If you're returning to school after spending some time in the workforce, your needs are much different from a first-time student. It's important to choose an institution that offers the flexibility adult learners need and fast-track graduation options so you can start earning a great living as soon as possible.
Some questions to ask before enrolling in an instructional design degree program include:
Is this institution accredited, and if so, by whom? How likely are transfer credits to transfer to my next institution?
What career support does this institution offer?
Is there flexible scheduling?
Who teaches classes?
Do employers and other schools respect a degree from this institution?
How long will it take me to complete my degree?
What is the cost of the program?
Am I eligible for student aid? What does the school do to support students in getting financial aid?
SNU doesn't just train instructional designers; we also hire them. That means we understand the value of this important career and can pair you with leaders in the field to master the craft. Don't delay the start of a brighter future. Get started on your instructional design degree program now.
To learn more about college funding options, check out our free guide, The Complete Guide to Financial Aid.