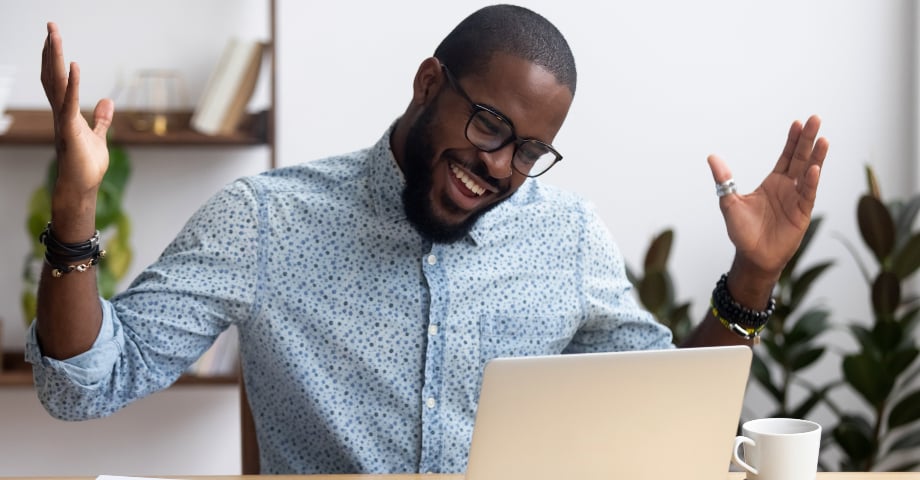 Think back to elementary school, high school, or even your prior college experiences. You might not be able to remember much about the daily lessons, or even recall the names of all your teachers. But you almost certainly remember the friends you made. Friendships make life worthwhile.
They make digging into challenging material feel easier. And they give you an incentive to keep going when you encounter one of life's seemingly endless difficulties. Your classmates are important in your online degree program too. Not only can they serve as cheerleaders and empathetic ears, but they will also one day become your professional network. Networking begins long before you graduate, so get to know the people who will one day become your colleagues. They may help you find a job, hire you, get you a speaking gig, or keep you abreast of critical industry shifts.
The Benefits of Making Friends in Your Program
You probably already know that a college degree can help you achieve a brighter tomorrow. Much of your career, however, depends on your relationships. That's why networking should figure prominently in your strategy for succeeding in school and beyond. Some benefits of making friends in college—even if you choose an online degree program—include:
Help with assignments. When you're tackling difficult material, another perspective can help. Your peers may explain things in a way that clicks better for you. You may also find that reviewing your friends' notes helps you approach things from a different angle, fostering more versatile thinking and a deeper understanding.
Study support. Studying for tests can be exhausting and deeply isolating. Spend time with people who get it. Your cohort can help you prepare for tests, quiz you on recent class topics, and take the tedium out of preparing for exams.
Networking for job opportunities. People often learn about jobs from friends who work for the company, or get job offers from acquaintances before the job listing goes public. The more people you know in your chosen industry, the better are your chances of networking your way into a job. Moreover, a wide network means more people talking about you and spreading the word if you do good work. Your classmates offer a ready-made professional network filled with the people who will one day be industry insiders in your chosen field.
Mastering soft skills. Soft skills such as communication, small talk, teamwork, and empathy make you easier to work with. They can also help you secure a job because you'll interview better and be more likely to impress and charm your colleagues. Practice these soft skills with your classmates, and you'll be a more attractive job candidate.
How to Make Connections in an Online Degree Program
If you choose an online degree program, the odds are good that your schedule is already packed with work and family obligations. But nurturing connections with your classmates is more than just another task to check off your to-do list. It's an integral part of your education—particularly at SNU, where the cohort model is central to our educational philosophy.
So how can you fit new friendships and networking into an already full life? These tried-and-true tactics multiply your support without wasting your time:
Participate in class forums and online discussions. Use these boards as a chance to practice professional skills, such as tying course material to the larger world and learning about others.
Don't just talk about yourself. Ask other people questions too. People love talking about themselves, and giving them a way to share can turn small talk into something more meaningful. Ask about kids, jobs, and hopes for the future.
Ask for help. If you're struggling with course material, reach out. Most people like helping others, and some research even suggests that showing some vulnerability can make people like you more.
Schedule virtual study groups that offer real value. Share notes, plan discussion topics, and make it as fun as possible. You can also utilize video chat or conferences to simulate face-to-face interaction even if you're not physically in the same room. Some of the best schools will utilize a platform that enables you to easily use these tools. For example, SNU students are able to use Google Hangouts to stay connected with one another, at no additional cost.
Treat your classmates as colleagues, not competitors. Your success does not depend on their failure. Indeed, cultivating relationships with lots of successful people can immediately expand your own opportunities too.
Offer real help. Figure out what you're good at, and then share it as a resource. If you take great notes, post them to a class bulletin board. If you make awesome study guides, offer to share them. People want to return the favor when others help them.
Try integrating classmates into your real life. Planning a small get-together? Invite a classmate or two. This allows you to network and form closer relationships while still living your life.
Get together in person if you can. Meet up at a local coffee shop or another study spot for a break and change of scenery. It's also a great way to get to know one another in a more casual setting. Heading out to the coffee shop now may not be possible now, but using video chat as a substitute works well in the meantime!
Connect on shared interests beyond classwork. School may have brought you together, but that doesn't mean it should be the only thing you talk about. Try to connect with your classmates on a personal level too. Ask about their interests outside of the classroom, bond over similar challenges you may be facing when trying to balance school with your other responsibilities, and work to build a solid friendship.
Schedule regular times to meet up, even if you're only doing so virtually. A standing study date is easier to keep and doesn't require lots of back-and-forth and coordination. This makes getting to know your peers effortless, and ensures you're regularly spending time with the folks who will one day join you in your chosen field.
Questions to Ask Before Choosing an Online Degree Program
The best online degree programs offer rigorous coursework with expert professors. They leave out all of the inconveniences of traditional college—fighting traffic, finding a parking space, getting to class on time, even having to get dressed. Research shows that employers respect these programs, and may even encourage employees to enroll. Not all programs are identical though. Some offer better instruction, more job opportunities, and a more flexible program. Before enrolling, ask the following questions:
What is the weekly commitment? How much time must I spend in class, and how long can I expect to spend on homework?
How much does the program cost? What financial aid options are available?
How long does it take to complete the program?
Who teaches classes?
What opportunities will I have to get to know my classmates?
What sorts of jobs do people land after graduation?
Can I meet with my professors in person?
What is the post-graduation employment rate?
Do most students get financial aid?
How SNU Supports You
SNU believes that a college degree unlocks the door to a brighter future. A brighter future for everyone means a better world for us all. We're training a generation of leaders, managers, healthcare workers, and world-changers. That's why we support you from day one to get your degree.
We believe in the power of online learning. We know it opens opportunities to people with busy schedules, and geographic disadvantages. We relish the chance to help you learn on your own terms, from the comfort of your own home. But we also know that an online degree program can be isolating. To address this head on, we are proud to offer a cohort model, which means that you learn with the same group of peers throughout your entire program. You'll get to know one another, serving as support through struggles and triumphs.
We encourage you to talk to your cohort about more than just school. Your life doesn't end just because you've enrolled in college. The things happening in the world surrounding academia are important too, so invest in one another's kids, families, and interests. The more deeply you invest in those connections, the better they will serve you for the life of your career. And of course, you'll always have a support person ready to cheer you on when times get tough or you need a little motivation.
SNU believes in a holistic approach to learning. We treat our students as real people with real lives. That's why we think it's so important to offer flexible degree programs and encourage you to build lasting relationships. For more tips to help you excel in college and beyond, subscribe to our blog.